Unlike the traditional belts, BeltDude No Buckle Elastic Belt can hold up your jeans without the bulky buckle, which is an alternative to uncomfortable belts that put pressure on the stomach and is functional enough to be a necessity for your daily wear.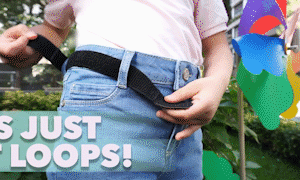 Just attach BeltDude No Buckle Elastic Belt between two of your side belt loops, and secure it into place. You'll never need to touch it throughout the day. It holds your pants snug, month after month!
Main Features
Your Pants Will Never Fall Down

All pants and shorts with belt loops are spaced differently. BeltDude No Buckle Elastic Belt includes 2 Small (10") belts that allow you to attach to both sides of the belt loops on your pants. The Pair will ensure your pants are secure, you won't fiddle with the buckle anymore. Makes your life easier.

Experience Ultimate Comfort All Day Long

When belts dig into your stomach, it will cause pain and annoyance. With BeltDude No Buckle Elastic Belt, your pants feel secure without any buckles digging into your stomach, you won't even feel like you're wearing a belt while it allows you to breathe easy and stay comfortable.
No Bulge, No Hassle Any More

Weighing just 2oz, you can secure BeltDude No Buckle Elastic Belt on and off in just seconds. No more taking off your belt at the airport, wear your BeltDude through the airport without any hassle, just wear it with any of your common pants and shorts.
Bring New Life To Your Favorite Clothing

Recently lost weight? You don't have to buy whole new clothing. Snap your BeltDude No Buckle Elastic Belt on once, you will forget wearing a belt all day, bring new life to your pants, and enjoy wearing your favorite clothing again! It's also a nice gift for the person you concern about.
Perfect for Every Occasion:

Everyday wear - wear it every day, without even realizing it

Travel - wear it through the airport without a hitch

Casual wear - wear it with your favorite pair of jeans

Formal wear - wear it with your favorite suit and tie

Tool holder - w

ear it with your handtools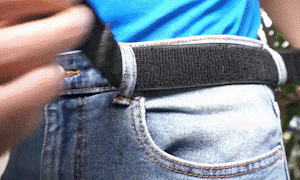 BeltDude No Buckle Elastic Belt is the perfect way to secure your pants without an uncomfortable belt pressing against your stomach. Enjoy your life.